Embracing Trenchless Technology to complete jobs efficiently with less disturbance, less noise and less impact on the environment
M & A Doocey has introduced a new force to their already extensive plant, an S3 class Vermeer Navigator D40x55. This horizontal directional drill offers premium performance, class-leading cycle times and a variety of drill rod options, making it well-suited to variety of applications – from long fibre runs to light pipeline work. With its increased power, the D40x55 S3 drill will help help maximize our onsite working.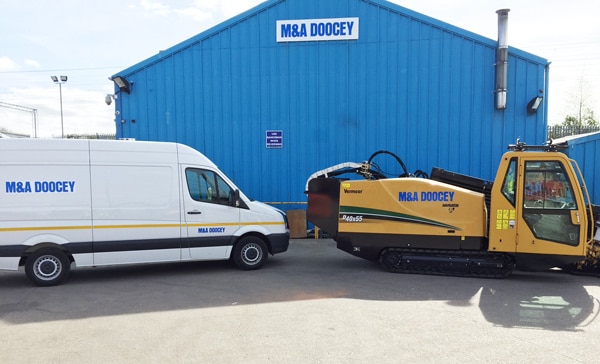 Minimising our Environmental Impact, Maximising our Productivity
'We've had this drill for two weeks now, and we've had zero complications. The strength is there, the speed is there. That drill is absolutely the quietest directional boring machine I've ever run.'
Offering a quieter working environment with less neighbourhood disturbance and easier communication among the crew.
As we also operate in congested urban settings, noise is a big concern – not only for the operator but also those living and working in close proximity to the job site.
This drill has significant sound reductions with a 104 dBA guaranteed sound power level and an operator ear rating of 82.9 dBA. To put that into perspective, a blow dryer, kitchen blender and food processor are all in the 80-90 dBA range.
The new Vermeer S3 Navigator drill also features a closed rod box to eliminate pinch points and make the work site safer.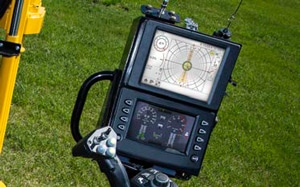 Modern solutions to age old problems
With superior performance, faster cycle times, modern hi-tech innovations, and a variety of rod options, we can get the job done, on budget and on time.
The interactive full-colour touchscreen display delivers real-time, easy-to-view locate information, bore plans and more that can help increase productivity.
It's safer for our operators too, the excavator-style climate-controlled cab allows operators better visibility, more legroom and greater comfort in unfavourable climate conditions.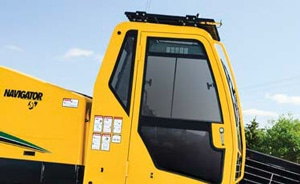 The versatility of the D40x55 S3, allows our Drill Teams to select the ideal drill configuration for the specific need. We can choose from three drill rod options: 10-ft rod in 2.38 in. or 2.63-in. diameters and 15-ft rod with a 2.63 in. diameter.
https://www.dooceygroup.co.uk/wp-content/uploads/2017/09/Doocey-Directional-Drilling.jpg
795
1200
DooceyAdmin
https://www.dooceygroup.co.uk/wp-content/uploads/2017/09/Doocey-Group-Header-Logo-Transparency.png
DooceyAdmin
2017-04-19 19:47:05
2020-04-06 15:23:13
M&A Doocey take delivery of our new Directional Drill